August is National Breastfeeding Month!
The U.S. Breastfeeding Committee (USBC) is coordinating a social media advocacy and outreach campaign to build support for the policy and practice changes needed to build a "landscape of breastfeeding support."  These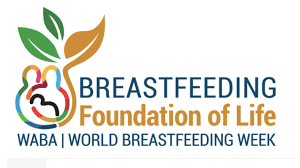 activities build on the observation of World Breastfeeding Week (WBW), celebrated every year from August 1-7 to encourage breastfeeding and improve the health of babies around the world. It commemorates the Innocenti Declaration signed in August 1990 by government policymakers, WHO, UNICEF and other organizations to protect, promote and support breastfeeding. This year's theme is Breastfeeding: Foundation of Life, highlighting breastfeeding as a universal strategy that levels the playing field, giving everyone a fair start in life.
In 2017, Florida Healthy Start programs provided breastfeeding education and support to nearly 17,000   pregnant women and 9,800 mothers of newborns following delivery. Healthy Start Coalitions are also partnering with the state Department of Health to encourage hospitals to adopt policies and practices supporting breastfeeding as part of its Baby Steps to Baby Friendly project, an initiative of the DOH Florida Healthy Babies initiative.
The American Academy of Pediatrics (AAP)  recommends exclusive breastfeeding for the first six months of a baby's life, followed by breastfeeding with the introduction of complementary foods until at least 12 months of age, and continuation of breastfeeding for as long as mutually desired by mother and baby.
According to AAP, this recommendation is supported by the health outcomes of exclusively breastfed compared to outcomes for infants and infants who never or only partially breastfed. Breastfeeding provides a protective effect against respiratory illnesses, ear infections, gastrointestinal diseases, and allergies including asthma, eczema and atopic dermatitis. The rate of sudden infant death syndrome (SIDS) is reduced by over a third in breastfed babies, and there is a 15 percent to 30 percent reduction in adolescent and adult obesity in breastfed vs. non-breastfed infants.
Breastfeeding also provides health benefits for mothers. Mothers who breastfeed are at reduced risk for breast and ovarian cancer, type 2 diabetes, retention of pregnancy weight, and possibly hip fractures and osteoporosis in the postmenopausal period.