Most (82.6 percent) babies born in Florida started out breastfeeding – but many stop earlier than recommended, according to the 2018 Breastfeeding Report Card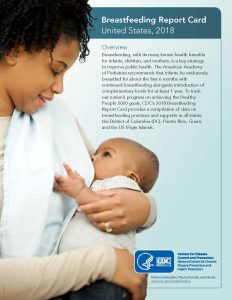 released this week by the Centers for Disease Control and Prevention (CDC).
The American Academy of Pediatrics' Policy on Breastfeeding recommends exclusive breastfeeding for the first six months. While more than half (54 percent) of  infants in Florida are still breastfeeding at 6 months of age, only 1 in 5 are breastfeeding exclusively.  Similar patterns were reported nationally, according to the annual CDC report card. Increased worksite breastfeeding support is a key factor in increasing duration, the report notes.
Additional highlights from the 2018 Breastfeeding Report Card show:
High breastfeeding initiation rates in both the state and U.S. shows that most mothers want to breastfeed and are trying to do so.
About 42 percent of babies in Florida were exclusively breastfeeding at 3 months. Nationally, 47 percent exclusively breastfeed at 3 months.
One third (33.5 percent) of infants in the state were breastfeeding at 12 months, compared to 36 percent nationally.
Less than 18 percent of babies in Florida are born in facilities that provide recommended maternity care practices for breastfeeding mothers and their babies. Nationally, 26 percent of babies are born in Baby Friendly facilities, according to the report.
In 2017, Florida Healthy Start programs provided breastfeeding education and support to nearly 17,000   pregnant women and 9,800 mothers of newborns following delivery. Healthy Start Coalitions are partnering with the state Department of Health to encourage hospitals to adopt policies and practices supporting breastfeeding as part of its Baby Steps to Baby Friendly project, an initiative of the DOH Florida Healthy Babies initiative. August is National Breastfeeding Awareness Month.