More than 10% of babies in 2017 were born too soon in Florida, earning the state a "C" on the Premature Birth Report Card, released today by the March of Dimes. The overall U.S. preterm birth rate rose to 9.93% of births in 2017 from 9.85% in 2016, according to data from the National Center for Health Statistics (NCHS).  Premature birth and its complications are the largest contributor to death in the first year of life in Florida and the United States.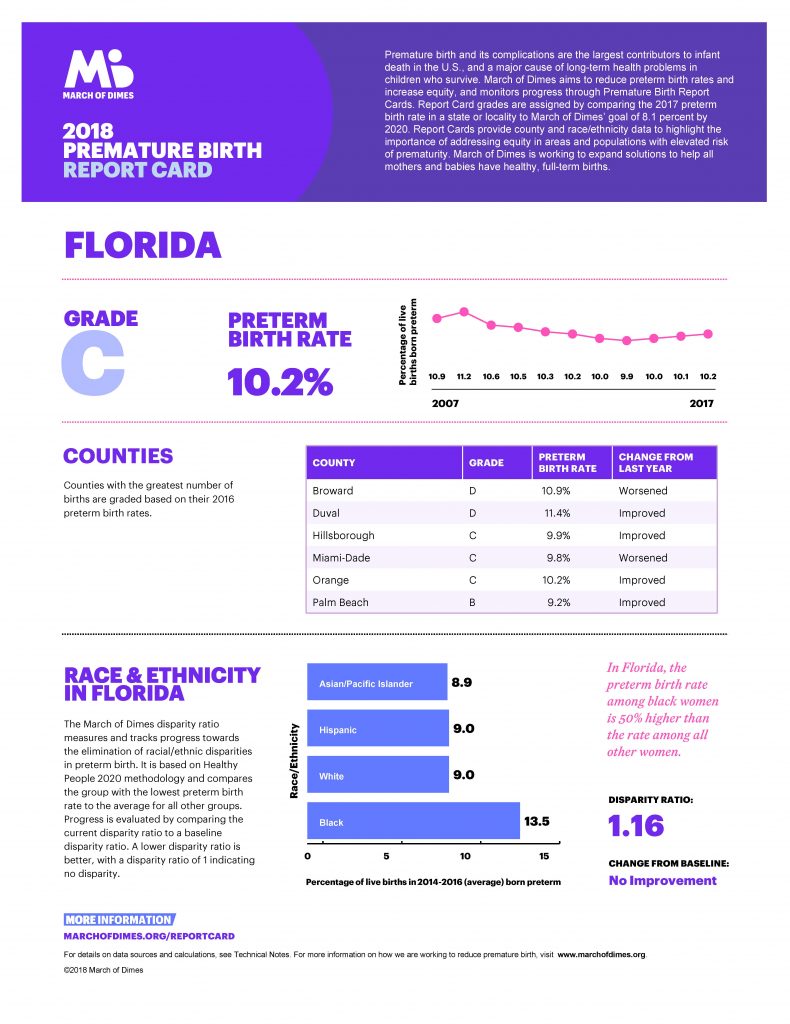 A birth less than 37 weeks gestation based on the obstetrical estimate of gestational age is considered preterm.
Florida's grade, along with grades for six other states, remained unchanged from the prior year. Overall, preterm birth rates worsen in more than half of states, with 16 states posting improvements.
Despite a steady statewide rate, four of the six largest counties in Florida showed improvement in their preterm birth rates between 2016 and 2017. Duval, Hillsborough, Orange and Palm Beach Counties experienced a lower proportion of premature births in 2017; while Broward and Miami-Dade saw preterm birth rates worsen.
The March of Dimes Report Card also measures and tracks the progress of states in addressing disparities in preterm birth by race and ethnicity. In 2017, Florida's disparity ratio was 1.16 – reflecting a preterm birth rate among black mothers that is 50% higher than all other mothers. The state showed no improvement in its disparity ratio between 2016 and 2017.
While there is no single cause of preterm birth, research shows that chronic inequities and unequal access to quality health care have a negative impact on these rates, according to the March of Dimes. These factors contribute to the reality that women of color are up to 50 percent more likely to deliver prematurely and their children can face a 130 percent higher infant death rate compared to white women.
Eight local Healthy Start Coalitions have organized teams to lead community-based strategies for addressing preterm birth as part of the March of Dimes' Prematurity Prevention Campaign. Coalitions in Northeast Florida, North Central Florida, Southwest Florida, Hillsborough County, Orange County, Sarasota, Hardee-Highlands- Polk, and Palm Beach are implementing Centering Pregnancy, IMPLICIT, and other innovative projects through the initiative.  The Broward County Healthy Start Coalition is also the site of a national Healthy Babies Are Worth the Wait project which uses a collective impact approach to address pre-term birth.
Register now for the 2018 March of Dimes Prematurity Summit November 29-30 at the Tampa Westshore Holiday Inn. The summit will feature national experts and action planning for communities focusing on effective strategies for reducing prematurity.