Florida's infant mortality rate dropped slightly in 2016, but the state continues to face challenges with disparities and the growing number of babies impacted by the opioid crisis. Statewide, 1,380 babies died before reaching their first birthdays in 2016, compared to 1,400 in the previous year.  Florida's infant mortality rate was 6.1 deaths per 1000 live births in 2016, compared to 6.2 deaths per 1000 live births in 2015.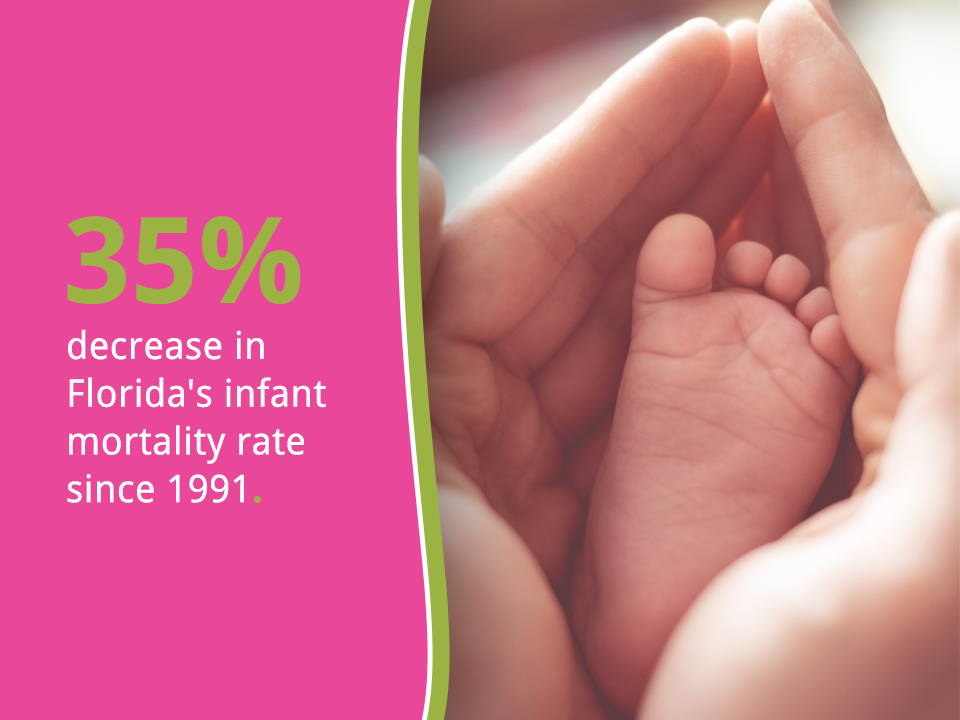 Babies born to non-white mothers continued to die at 2.5 times the rate of white babies.  In 2016, the infant mortality rate for white babies was 4.3 deaths per 1000 live births, compared to 10.7 deaths per 1000 for non-white babies.  Prematurity remained the leading cause of death in the first month of life, while sleep-related deaths accounted for the largest number of preventable deaths in the post-neonatal period. More than 4,200 babies were born substance exposed in 2016 – a 12-fold increase since 2005.
During September, Healthy Start Coalitions will sponsor education and awareness events to bring attention to infant mortality – and what communities can do to prevent it – in observance of National Infant Mortality Awareness month.  Activities include local proclamations, awareness walks, outreach events and community baby showers.
The Healthy Start program was created by the Florida Legislature and the late Governor Lawton Chiles in 1991 to address the state's high infant death rate.  Funded by the Florida Department of Health and the Agency for Health Care Administration, the Healthy Start program provides education and support to at-risk pregnant women and families with newborns identified through the state's prenatal and infant screening process. The program provides risk appropriate care, breastfeeding support, tobacco cessation, childbirth preparation, and psychosocial counseling, including services to address perinatal depression. Local Healthy Start Coalitions were formed as part of this legislation and charged with developing community systems of care to ensure at-risk families have access to prenatal care and other services.
Infant mortality rates in the state have decreased more than 35 percent since the program's inception.
For more information about Infant Mortality Awareness Month events in your community, contact your local Healthy Start Coalition.