Healthy Start activities and the impact of program efforts to improve birth outcomes are highlighted in the 2017 Annual Report released recently by the Florida Association of Healthy Start Coalitions.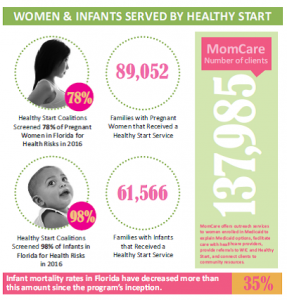 Nearly 90,000 pregnant women and 62,000 families with newborns received services through the program last year. An additional 138,000 pregnant women on Medicaid were linked to community resources through MomCare, according to the report.
These activities contributed to a 35% reduction in infant mortality since the program's inception in 1992.
Building on this success, the program will introduce a new system of care in 2018 that offers proven, targeted services for mothers and babies, leveraging community resources, integrating evidence based interventions and coordinating with Medicaid managed care.
The Florida Healthy Start program is funded by the Agency for Health Care Administration and the Florida Department of Health.  Local coalitions leveraged more than $23 million in additional funding in 2017.