Inside This Issue
Investing in the Earliest Years
Program Spotlights
Infant Mortality Awareness
MIECHV Updates
ECCS Updates
Investing in the Earliest Years
In a tight budget year, it is vital to remember that the highest rate of return on investment is during the earliest years (ages 0-3). This is why it is critical to ensure that every baby has a chance at a Healthy Start.
According to the March of Dimes, one pre-term baby averages $15,000 in Neonatal Intensive Care Unit costs. This does not include the additional potential costs of developmental services throughout childhood. The return on investment is $10.00 saved per $1.00 expended.[1]
According to the Casey Family Foundation, home visiting has strong evidence for promoting positive outcomes for mothers and young children. Improved cognitive development, high school graduation rates, family economic self-sufficiency, and maternal and child health outcomes all show the value of home visiting services.[1]
Florida's Healthy Start Coalitions leveraged $22.4 million in additional funds for their local communities. Also, the Florida Association of Healthy Start Coalitions administers a $9.2 million Maternal, Infant, and Early Childhood Home Visiting federal program providing support for Nurse Family Partnership, Healthy Families, and Parents as Teachers programs in Florida.
The ultimate ROI values are the positive outcomes and successes achieved through our quality program services. In 2019, Healthy Start launched a completely redesigned program. An early report on the outcomes for Medicaid-supported clients who received services as the model is designed showed 90% of mothers delivered a normal birthweight baby.
Program Spotlights
Thank you to all who donated emergency supplies to the
Healthy Start Escambia & Santa Rosa Coalitions following hurricane Sally.
Your kindness and generosity were MUCH appreciated during a very difficult time.
The donations were distributed to moms and babies in need.
Also, a huge Thank You to Ardelle Bush and her team at The Healthy Start Coalition of Okaloosa and Walton Counties for coordinating and delivering donations!
Congratulations are in order! Healthy Start Coalition of Pinellas and Step Up Suncoast (Manatee/Desoto/Hardee), both MIECHV grantees, completed the Parents as Teachers (PAT) Quality Endorsement and Improvement Process and earned the highest designation: Blue Ribbon Affiliate status. Being named a Blue Ribbon Affiliate affirms that both programs are among the highest quality members of the home visitation and parent education field, implementing the evidence-based PAT model with fidelity and quality.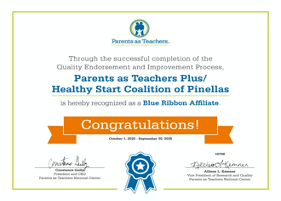 Infant Mortality Awareness
Losing an infant is devastating for parents, families and communities and can result in extreme and persistent sadness that does not get better with time. Parents that have lost a child also have increased risks of many poor health outcomes such as post-traumatic stress disorder, depression, psychiatric hospitalizations, guilt and heart attacks.
In 2018, over 21,000 infants died in the United States. According to the Centers for Disease Control and Prevention, the leading causes were:
Birth defects
Low birthweight and preterm birth
Maternal pregnancy complications
Sudden Infant Death Syndrome (SIDS)
Injuries
The United States infant mortality rate is consistently higher than other developed countries, 1.5 times higher than the average (3.8 deaths per 1,000 live births) among Organization for Economic Co-operation and Development countries. Within the United States, significant disparities persist in infant mortality among different racial and ethnic groups, with the most striking disparity between babies born to black women and babies born to white women.
Research indicates socioeconomic inequality in the United States is likely a primary contributor to its higher infant mortality, along with reporting methods that differ from state to state. Considerable progress has been made in the United States over the past 50 years to reduce infant mortality, however, more needs to be done.
There are several maternal risk factors for infant mortality, including maternal obesity (BMI>35) and use of alcohol and tobacco during pregnancy. Populations with higher rates of infant mortality include:
It is important to implement a variety of strategies to reduce infant mortality. Key prenatal and postnatal strategies include:
Reducing maternal obesity
Reducing maternal smoking and alcohol consumption
Improving access to and use of ongoing prenatal care
Improving preconception health of all women
Improving sleep practices among infants and newborns: Injuries such as suffocation cause many infant deaths annually. The Centers for Disease Control and Prevention provides information on how to eliminate sleep hazards for your baby.
Sources:
MIECHV Updates
FAHSC submitted the Florida Home Visiting Statewide Needs Assessment Update to HRSA on October 1st. Completion of the needs assessment was guided by a steering committee comprised of 15 individuals from varying levels within home visiting (home visitors, supervisors, administrators, and state-level staff), state agencies/funders, model developers, university researchers, and parent representatives. FAHSC contracted with the University of South Florida College of Public Health to spearhead the data analysis, with Dr. Jennifer Marshall as the team lead. Katie Hood, MIECHV Quality Improvement and Implementation Manager, served as the staff lead and Marianna Tutwiler, a consultant, was hired to help facilitate its completion.
The needs assessment identified 47 counties with concentrations of need – 19 counties were identified through county-level data analyses, 25 counties were identified with census tract-level analyses, and an additional three counties were identified with justification. The assessment also examined the quality and capacity of existing evidence-based home visiting programs and Florida's capacity for providing substance abuse disorder treatment and counseling services. FAHSC staff is currently working on an executive summary of the report and will share its findings as soon as the report is approved by HRSA.
ECCS Updates
Florida ECCS Continues Its Partnership with Nemours & Prepares for Phase 2 of Project HOPE!
Florida ECCS is currently wrapping up Phase 1 of Project HOPE (Harnessing Opportunities for Positive, Equitable Early Childhood Development) and preparing for Phase 2. Project HOPE is funded by Nemours Children's Health System and is designed to generate real progress toward equitable outcomes for young children (prenatal to five) and their families by building the capacity of local communities, state leaders, cross-sector state teams, and local coalitions to prevent social adversities in early childhood and promote child wellbeing.
Phase 1 of Project HOPE in Florida focused primarily on advancing racial and ethnic equity among early childhood providers and place-based communities, promoting social-emotional health, and amplifying community voice. Over the past few months, our policy consultant, Dr. Allison Pinto, has worked closely with the ECCS policy workgroup and partnering place-based communities to refine our early childhood policy priorities and gather stories from parents of their experiences in navigating the early childhood system. Storytelling is one of the key strategies discussed in our training and coaching with the University of Florida's Center for Public Interest Communications and we hope to incorporate parent stories as we communicate our policy priorities to policymakers and other key stakeholders.
We also are excited to have been selected by Nemours to receive additional funding to continue our Project HOPE work. We will be implementing Phase 2 in October which will continue to build capacity in the Project HOPE's community of focus, Parramore Heritage in Orlando, by implementing a pilot to increase engagement, leadership, and advocacy among parents. This includes coordinating activities provided through Project HOPE, using targeted engagement strategies to engage and organize parents, building the capacity of parents to advocate for the developmental and health needs of their children, and sharing lessons learned from this process with other communities in Florida.
We are elated to continue our partnership with Nemours and Project HOPE and expand our work on behalf of Florida's youngest children and their families!
Resources:

https://www.fleccsimpact.org/
https://www.movinghealthcareupstream.org/nemours-project-hope/
Client Success Story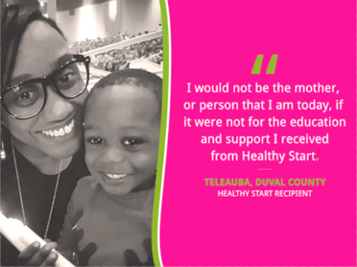 The following Healthy Start Core Trainings are being offered on the HS LMS for new Healthy Start Workers/Supervisors: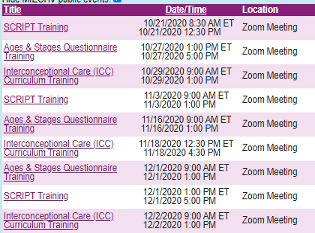 Sound Beginnings Ambassador Program:
Early language development & literacy trainers from across Florida are invited to become Sound Beginnings Ambassadors! Join us to learn more about how to add this University of Florida Lastinger Center/Florida Grade-Level Reading Campaign training to your local training schedule.
Experienced local agency trainers will be shown the elements of this 2-3 hour training which dives deep into best practices in early language development when working with children birth-3 years of age. Instructors will be shown the PPT, the Ambassador Manual, videos, and the handouts associated with this training.
Trainers interested in presenting this training locally, at least 2-3 times per year, will be asked to submit a short application and bio by November 25, and selected trainers will participate in a train-the-trainer presentation on December 10 and then provided with the Ambassador materials to start offering locally in 2021.
If your coalition is interested please follow the following link to learn more: https://register.gotowebinar.com/register/2999658346067464460