After nearly a decade of progress, prematurity rates in the U.S. and Florida increased in 2016, earning the country and state a "C" on the new March of Dimes Prematurity Report Card released today. Florida had a preterm birth rate of 10.1% in 2016, compared to 10.0% in the prior year. Nationally, the rate increased from 9.6% to 9.8% during the same period. Prematurity is the leading cause of infant mortality. Babies born prior to 37 weeks gestation face increased risk of lifelong disabilities, chronic health conditions and death before their first birthday.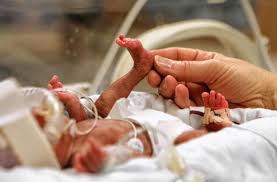 Describing 2016 results, as a "wake up call," the March of Dimes estimates an additional 8,000 babies were born premature in the U.S. due to the increase in preterm birth rates between 2015 and 2016.  Florida experienced an additional 380 premature births during the same period.
Prematurity rates worsened in 43 states, stayed the same in three states and improved in only four states, according to the March of Dimes. The 2017 MOD Report Card grades the U.S., states and counties with the greatest number of births based on the difference between their rates and the March of Dimes 2020 goal of 8.1%.
In addition to overall rates, the 2017 MOD Report Card includes a disparity ratio which measures differences in prematurity by racial/ethnic group. In Florida, the preterm birth rate among black women is 49% higher than the rate among all other women – mirroring the national trend. The state's disparity ratio is 1.17, compared to 1.23 for the U.S.  Florida's level of overall disparity was the lowest among states in the Southeast, a singular bright spot in the report.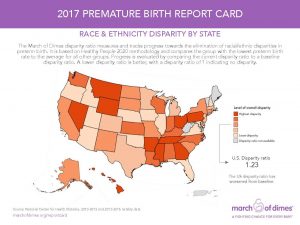 Prematurity rates and grades are also included on the 2017 MOD Report Card for Florida's six largest counties. Rates worsened in five of the six counties which posted grades from "C" (Broward, Miami-Dade and Palm Beach) to "F" (Duval).  Only Miami-Dade, with a preterm birth rate of 9.6%, improved from the prior year.
Florida's Healthy Start Coalitions are partnering with the March of Dimes and Florida Department of Health in a three-year initiative to raise awareness and rally community action to address preterm birth.  Thirteen Healthy Start Coalitions have formed local teams, comprised of health care providers, consumers, social service agencies and advocacy groups, to plan and implement activities aimed at improving birth outcomes and reducing factors that contribute to prematurity.  Efforts are focused on increasing access to health care and other needed services, as well as addressing social determinants such as nutrition, housing, education and economic well-being, that underlie racial and ethnic disparities.
The Broward Healthy Start Coalition is teaming with Broward Health to implement Healthy Babies are Worth the Wait®, a national March of Dimes initiative to prevent preterm birth using the "5 P's": Partnerships, Provider initiatives, Patient support, Public engagement, and Progress measurement, increasing knowledge and utilizing evidence based and evidence-informed practices related to LARCs, Birth Spacing and Health Equity. Other Healthy Start Coalitions are implementing initiatives in group prenatal and pediatric care, baby spacing and access to effective contraception, consumer and provider education to reduce early elective deliveries (EED), and preconception health.  Mini-grants to support these projects are being provided by the March of Dimes and the Florida Department of Health.
In addition to Broward, other participating Healthy Start Coalitions include Palm Beach, North Central Florida, Escambia, Northeast Florida, Hillsborough, Orange, Hardee/Highlands & Polk, Sarasota, St. Lucie, Southwest Florida, Capital Area, and Miami-Dade.