Interim Chief Executive Officer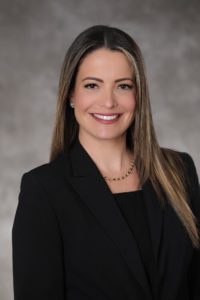 Jinny, as she is affectionately known by family, friends, and colleagues, is a mental health counselor with over 15 years of proven success in child and family services administration. Prior to joining the Healthy Start Coalition of Miami-Dade, Jinny served in a variety of positions focusing on health, mental health, and early learning. She began her career in the non-profit sector with Family Central, Inc. and the Early Learning Coalition of Miami-Dade/Monroe, where she provided leadership to ensure children with special needs had the opportunity to be in an inclusive environment to foster learning and awareness. In 2007, Jinny became the Education Director at the United Way Center for Excellence in Early Education, supporting educators, childcare professionals, and parents with resources to implement the highest standards of early education.
Committed to the wellbeing and health of families in her community, Jinny joined the Healthy Start Coalition of Miami-Dade (HSCMD) in 2009. During her tenure with HSCMD, and under the founding and immediate past Chief Executive Officer Manuel (Manny) Fermin's guidance, Jinny has served in multiple leadership roles, progressing from Supervisor to Manager to Director to Chief of Staff.
Jinny obtained a B.A. in Psychology from Florida International University and a M.S. in Mental Health Counseling from Nova Southeastern University.
Born in Puerto Rico into a modest, very loving, and united family. She moved from her country in 1998 and made Miami her home since then. Jinny has been happily married for 19 years; and is the proud mother of Andrea Paola (16), and Santiago Jose (12).
Jinny's additional professional accomplishments include authoring the book Ser Mama: Como encontar el balance… ¡sin perder la cabeza! Her newest addition, released in April 2019, offers support to mothers who just like her, are constantly performing a balancing act between home and work. Jinny is co-author of Married to Me: How to succeed after divorce, published in Spanish and English. This book, written with her sister, encourages women to discover and establish a healthy relationship with themselves in order to have healthy relationships with others. Since 2008, Jinny has authored the column "SER MAMA" published in the number one magazine in the Hispanic market, People En Español. Since 2005, Jinny has been part of the group of experts for television as well as several radio programs. Due to her successful work in the field, Jinny was appointed as the official ambassador of television network Discovery Familia for three consecutive years.
With the objective to support and guide mothers to reach their maximum potential and increase the quality of life of their family; Jinny has become an integral part, on television and in print, of numerous initiatives of interest to Latinas, from the upbringing of children to personal care, health, and empowerment.