Indian River County Healthy Start Coalition, Inc., Chief Executive Officer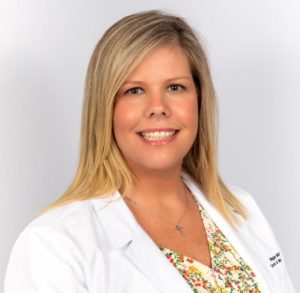 Megan McFall, incoming Chief Executive Officer at IRC Healthy Start, and former Director of Women's Health at Cleveland Clinic Indian River Hospital, has had the joy of being in the maternal child health field since 2015. Since 2009 she has been a part of Cleveland Clinic Indian River Hospital as a bedside nurse in L&D and held many different leadership positions within the organization, which include the Director of Professional Development, Surgical Services, Inpatient Cardiovascular Services, and the Clinical Decision Unit.
Megan has spent most of her life in Vero Beach, FL after her family relocated to the area in 1985 from New York. She graduated from Vero Beach High School and then pursued her first undergraduate degree in education at Middle Tennessee State University graduating with honors. She quickly realized that she was being called to a different field and moved back to Vero Beach to attend the nursing program at Indian River State College where she was inducted into the Phi Theta Kappa Honor Society. She is currently pursuing her Master's Degree in Nursing with an emphasis in Leadership.
Megan has been practicing nursing for over two decades. Twenty years of her career have been managing teams, building relationships and developing compassionate caregivers. She has an extensive background in Women's Healthcare and Leadership. Megan has served as the chair of Leadership Development for the organization and led her department in many quality improvement initiatives.
Megan has been happily married to her husband Karry for 26 years. She will tell you that her biggest life accomplishment is her two daughters. Gabrielle, who is an alumnus of University of Florida and currently pursuing her second undergraduate degree and will graduate with her Bachelors in Nursing in May. Her youngest daughter, Vivian is currently a freshman at Illinois Wesleyan University and pursuing a Bachelor in Fine Arts in Musical Theatre and Violin Performance.