Healthy Start Coalition of Hardee/Highlands/Polk Counties, Inc.,
Executive Director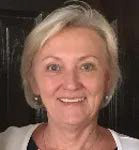 Charlene Edwards has been with the Healthy Start Coalition of Hardee, Highlands and Polk Counties since July 2014. Prior to that she worked with Redlands Christian Migrant Association (RCMA) for 25 years. RCMA is a statewide child care organization serving over 8,000 pregnant women, infants and children annually. Charlene held the positions of Director of Operations and Head Start Director.
Charlene holds a Bachelor's degree in Business Administration and a Master's in Public Administration.