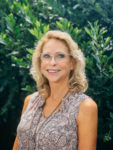 Healthy Start Coalition of Okaloosa and Walton Counties, Inc.
Ardelle Bush, Executive Director of the Okaloosa and Walton County Coalition, finds it difficult to believe that 22 years has slipped by since she began her career with Healthy Start. She considers it an honor to have worked on a variety of projects, over the years, that focus on improving maternal and child health in Okaloosa and Walton Counties. The most enjoyable element of her job is working to make a positive difference in her community through calibrations with civic partners, the Coalition's board of directors, her staff members, direct service providers, and the members of the Florida Association of Healthy Start.
Ardelle was born and raised in a resort town on Lake Michigan and attended Davenport University in Grand Rapids, MI, where she acquired a degree in Marketing and Hotel Restaurant Management. After graduating, she joined the United States Air Force where she was an Air Traffic Controller for four years. For the next decade, she honed her sales skills in the office equipment industry, while employed by a fortune 500 company. One of her most memorable jobs, before starting with Healthy Start, was when she worked as a Career Placement Specialist with graduates for the Job Corp Program.
When Ardelle is not working you will find her enjoying nature while either walking or riding her bike, sharing a story and a laugh with her daughters and friends, involved in a good read, or researching topics of interest.