Gone above and beyond to make a positive impact on improving the health of mothers and babies.
Demonstrated passion and dedication to her clients.
Been a true model of the heart of Healthy Start.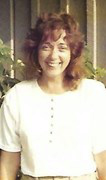 The Laura Pan Scholarship Award is given to one outstanding Healthy Start worker each year who provides direct services to families and has:
The award is made in honor of Laura Pan who helped create and worked extensively with Healthy Start at the Florida Department of Health in Tallahassee for more than 25 years. Laura was respected by everyone for her integrity, honesty, and passion for the Healthy Start program. Laura had a special gift of uniting people to make a positive impact on Florida's mothers and babies. As one colleague wrote: "Laura made the world a better place for mothers and babies and made us all better people."
The awardee will receive:
$3,000 scholarship for continuing education
Induction into the Healthy Start "Angels of Fame"
Nominations are due by July 23 and must be emailed to ExecAssistant@fahsc.org. Each Healthy Start Coalition may submit one nomination.
The winner of the award will be recognized at the awards reception on August 29 in Orlando at the Annual Meeting of the Florida Association of Healthy Start Coalitions. Travel expenses for the awardee will be provided by FAHSC.